IT Support for Accounting Firms
We understand that finance and accounting practices depend on reliable, high-performance IT systems capable of running multiple software programs concurrently, with secure, high-capacity storage.

We understand they need to be able to trust the quality and reliability of IT advice and services, as they must focus on productivity, client needs and managing their business.
We know that there is a busy season where the crunch is on for your team to meet deadlines on behalf of your clients, where your team is stressed and technology challenges can amplify that stress.
Envisage provides several finance and accountancy clients with the IT capability and security that is right for them, along with highly responsive in-person and remote IT support.
Our team makes your accounting technology work for you, so you can focus on finance.
As an accountant, you already have plenty on your plate. And when it comes to tax time especially, you need technology you can count on to make your life easier. Envisage IT offers you new technology in accounting to help streamline your accounting processes and simplify how you service your clients.
Cloud-based accounting platforms have transformed how you crunch the numbers, But has added an extra dimension of needing to choose the best tools among an increasing number of options, both for your firm and for your clients to use. Our IT management is here to help your team select and adopt the right accounting technology.
Your specialty is the accounting profession, we don't expect you to be an IT expert, too.
The accounting profession is one full of stringent processes and quality assurance requirements. Accuracy is paramount; you need the right processes to support your delivery of these requirements. That's where intelligent accounting technology and a hands-on IT partner come into play.
We support people in the accounting profession with a highly customised approach incorporating any IT support from managed services and cyber security through to data analytics and cloud computing.
A team you can count on to keep your accounting software at its best
It's crazy to think about how technology has changed accounting and how you manage your clients' accounts. Accounting software has revolutionised the industry, saving accountants everywhere time, money, and headaches. Your accounting software needs to work for you, though. When it comes to cloud-based accounting, Envisage IT is here to help you not only simplify your service offering but do it securely and with peace of mind. Our team can use our experience to help you identify the right accounting software to fit with your firm's strategy and keep you across the emerging trends in accounting technology that could create opportunities for your firm in the future.
Why choose us for your accounting technology needs?
Our IT consultants are here to optimise your accounting firm's workflow and productivity, and in turn, increase your profit, all the while, increasing the security of your IT applications. But there are a few other reasons firms in the accounting industry choose us for their IT management.
We make technology for accountants easy
Accounting technology, whether your cloud-based applications or business software, like email hosting and other cloud computing platforms, doesn't need to be difficult. But as an accountant, it's just another thing to add to the to-do list, and it might not be in your wheelhouse. That's why accounting firms partner with IT management services like ours, to make it easy.
We're always innovating what technology can do for your firm
Our team is obsessed with innovation and loves pushing the boundaries of what technology can do. Especially when it comes to improving your business processes and how you work, our IT professionals bring next-level expertise and innovative ideas to help you get more and more out of our service.
Putting your people first
An accounting firm is made up of professionals at a variety of career stages, and with varying levels of confidence and capability with the rapidly changing accounting technology. Our team is there to help your digital migrants build confidence in the cloud computing era just as much as we are available to ensure your digital natives unlock the power of automation.
A seriously deep understanding of your IT systems
You need an IT partner that is actually invested in your technology and how it works. Our team doesn't just set up and manage your IT systems, accounting software, and cloud computing platforms. We hold a deep understanding of how they work and how they interact, so we can overcome any IT problems you come across.
We take a proactive approach
We're always looking ahead and taking a proactive approach to your Managed IT. We know that when it comes to your accounting technology, you can't afford for it to stop. Our proactive approach prevents downtime and annoying hurdles in your accounting firm.
Your firm will have a single point of contact
When you team up with us for your accounting firm's managed IT services, you will be partnered with a single point of contact. Your point of contact will be an experienced IT consultant who's ready to support you at any time with your unique IT requirements. It means you'll always work with someone who understands your IT systems deeply, and they'll be available to provide a quick turnaround on your required support.
We're committed to solving your problems
By developing a strong understanding of your business and its specific requirements, paired with our knowledge of the accounting industry, we're well-equipped to solve your problems. We'll consult with you to find out how we can improve your business processes and your team's day-to-day life, and then create tailored solutions that solve your business struggles. All the while, you'll have our team's ongoing support.
IT consultants making an impact in the accounting industry
Our clients achieve high productivity resulting from ongoing connectivity and access to systems.
We also manage secure cloud data storage for our accounting clients, ensuring there is always sufficient and secure storage, and reducing reliance upon expensive in-house hardware and servers.
Our accounting technology and IT Frequently Asked Questions
Do you have a question about our accounting technology, managed IT services, or how we support accounting professionals? It might be answered below.
How can you help improve the security of our accounting firm's data?
We're specialists in providing support to accounting firms, and we understand how important it is to maintain the security of your sensitive data. Our solutions can absolutely improve the security of your accounting firm's data.
From implementing advanced security measures like firewalls and intrusion detection to prevention systems and anti-malware software. We have measures designed to protect your network from external threats and unauthorised access to your firm's data.
We can also support you in implementing regular security audits and vulnerability assessments that work to address any weaknesses within your security systems.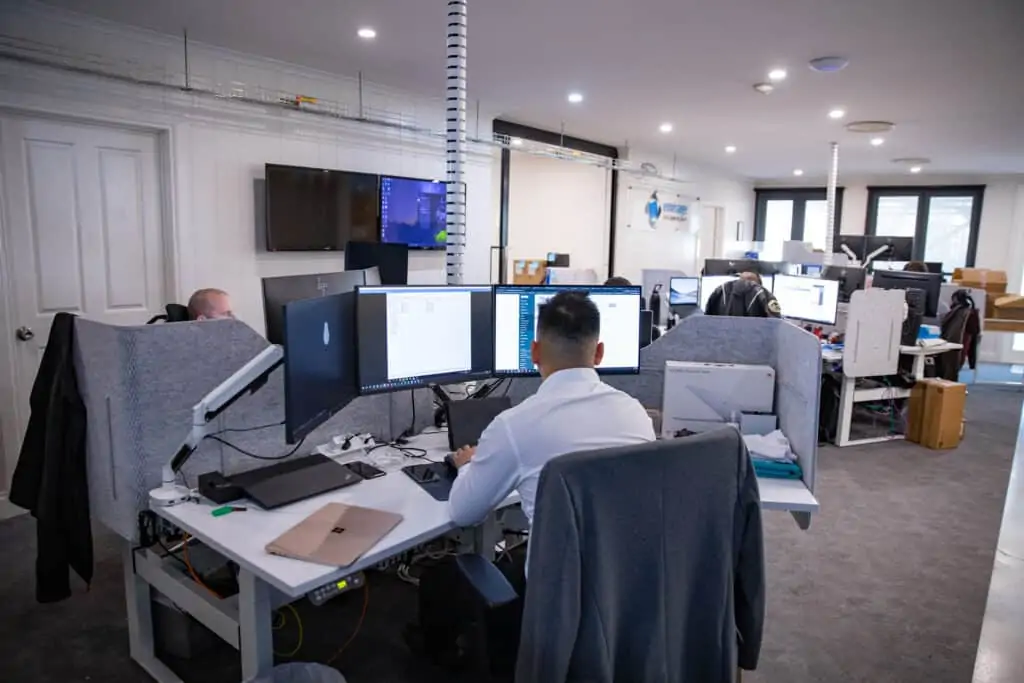 How can you help us improve our accounting software and systems?
Effective accounting systems are essential to effectively manage secure financial data.
Here's how we support you:
Accounting software

audits

Customised software solutions

New implementations and migrations

Ongoing IT maintenance and support
Do you offer ongoing technical support and maintenance services?
We sure do. Our ongoing technical support helps our accounting clients use their IT systems with total confidence, while our maintenance offers you the reassurance that your systems are in the very best condition.
Can you help us migrate our data to a new accounting software system?
Yes, we sure can. The migration of your existing financial data to a new software system can be an overwhelming feat. There are so many different elements to consider, including your own clients' experiences, the security of your data, and of course, the success of the migration.
Our team is highly experienced in these kinds of migrations and will support you in pulling off a seamless migration.
Do you offer training and support for our accounting staff to use new technology?
Yes, we do. While partnering with an IT firm like Envisage IT is an excellent way to create smarter and more secure IT systems and platforms in your accounting firm, it's still important that you and your team are across how these systems work and have the ability to troubleshoot when you're in a spot of trouble with your accounting technology. 
Our team can offer you basic training that allows you and your team to navigate different systems and find solutions, without always having to rely on your IT partner. 
Don't stress, though, our team is always there to help you when you do get stuck.
Why is managed IT important for accounting firms?
It's not just the serious efficiencies and exciting innovations that come with cloud computing that make managed IT services an obvious choice for accounting firms. It's the improved data management and security. 
You deal with highly sensitive information and data every day, and the backup and protection of this data are absolutely essential.
Managed IT services, cloud computing, and cyber security support protect you and your clients in case of the worst.
—
Couldn't find the answer you were looking for? You can always get in touch with our friendly team.
Walshs is a fully integrated financial management firm providing accounting, taxation and financial planning advice to our clients.
Changing IT companies or systems can be a hassle. We'll support you through the process, liaising with your existing IT partner and helping you source everything we need to hit the ground running. 
We will call you back within 4 business hours.